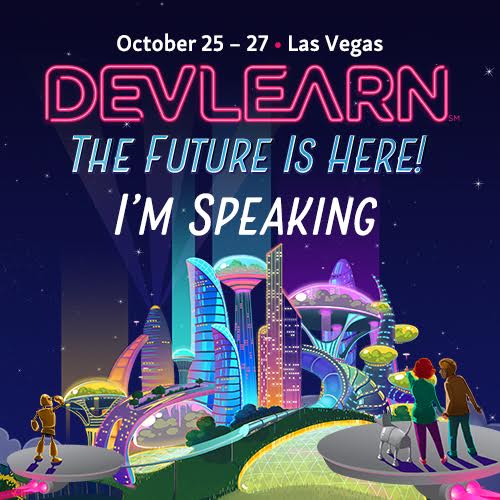 2017 will be the second year I've spoken at DevLearn. Last year was my first Bring Your Own Laptop session, which went well (and I learned a lot), and this year I'm going back to my roots with a session I've given many times, albeit it's getting a bit of an overhaul this year.
This year, I'll be talking all about Building Your E-Learning Portfolio. If you've taken the free Build Your E-Learning Portfolio mini-course over at Sprout E-Learning, you've had a taste of what I'll be talking about, but this will be the latest and greatest! It's an important topic that I think is getting a lot more recognition in recent years, but it's still a topic that boggles the mind of many Instructional Designers and E-Learning Developers. I'll try to boggle your minds less!
There are also a slew of some of my favourite e-learning industry heavy hitters presenting, so it's sure to be a good (and informative) time.
In other news, I know I've been absent for the past few weeks, and there are several reasons for that:
I put it my resignation at a local university and was working hard to prepare them for that transition.
I traveled to Atlanta and attended ATD ICE 2017.
I started a new full-time role at a local college.
I'm putting the finishing touches on Articulate Storyline 2: Essentials over at Sprout E-Learning – stay tuned; it'll be live very soon!
However, I'm back in the blogging game now!